Ship of State
Truly the Imperial Yacht Standart was all by all means a Ship of State - her gracious lines, elegant fittings and matching decorations, her perfect appearance, her technical advanced design, her fantastic and smooth behaviour at sea - she dwarfed her "competitors"; she was the floating representation of Imperial Russia in optima forma. The Imperial Yacht Standart was, more than any other Russian Imperial Yacht before her, a demonstration of the Russian naval superiority. Always accompanied by cruisers of the Russian Imperial Navy, which accentuated and underlined her status, she truly made an unforgettable impression.
The German Emperor, Wilhelm II, did not hide his feelings of envy and more than once remarked to Emperor Nicholas II that Standart would be a suitable gift. Wilhelm's yacht, The Hohenzollern, was nothing more than a refurbished destroyer of the Imperial German Navy and was by no means a rival to Standart. After Emperor Nicholas II had visited Queen Victoria, the prince of Wales (the future King Edward VII) immediately requested copies of the drawings of Standart and soon the Admiralty began the design of a new British Royal Yacht. This new yacht, Victoria & Albert III, very clearly showed signs of pure plagiarism but lacked the distinct, elegant appearance so characteristic for Standart; besides that Victoria & Albert III was initially an almost unseaworthy vessel and only thanks to rescueing tug boats did she not roll over during her launch; this made an enraged Queen Victoria vow that she would never sail her which, of course, she never did.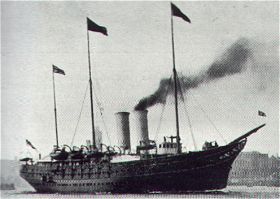 The British Royal Yacht Victoria & Albert III
These three yachts however have met frequently at various ocassions and especially Emperor Wilhelm II had, in the early years of Nicholas' reign, a habit of "harassing" Emperor Nicholas II while he and his family were spending their vacation in the Finnish archipelago. The Björkö treaty, a strategic alliance between Germany and Russia behind the back of Russia's alley France, was for instance the outcome during one of these "unexpected" visits. The treaty was never ratified and Emperor Nicholas II got a good deal of national and international critisism after this incident.
Immediately when Standart came into service with the Russian Imperial Navy her career started as suits to an Imperial Yacht. Emperor Nicholas II and his wife Alexandra came to Copenhagen with the Polyarnaya Zvezda in September 1896 and from there, after a visit to their Danish relatives, continued on a grand European tour with the new yacht. Standart had just completed her trials succesfully and Nicholas could hardly wait to board the new yacht.
From Copenhagen they first travelled to Cherbourg where their state visit to France started of on September 23. Nicholas and Alexandra were received with a lot of enthusiasm and the French government had made an incredible effort to make a good impression on the Imperial couple. Paris had prepared an unforgettable reception at the Champs Elysees and Nicholas and Alexandra laid the first stone for a new bridge crossing the Seine - the famous Pont Alexandre III. After they left France on September 29, Nicholas and Alexandra travelled onwards to Queen Victoria where they stayed at Balmoral from October 4 to October 15.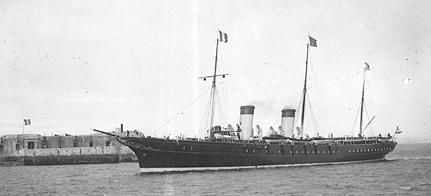 Standart's arrival at Cherbourg (France) - September 23, 1896
The year 1901 took the Imperial Couple and Standart to Copenhagen, Kiel and a visit to Dunkirk
Hier ook neerzetten over Reval 1908 en the triple alliance.